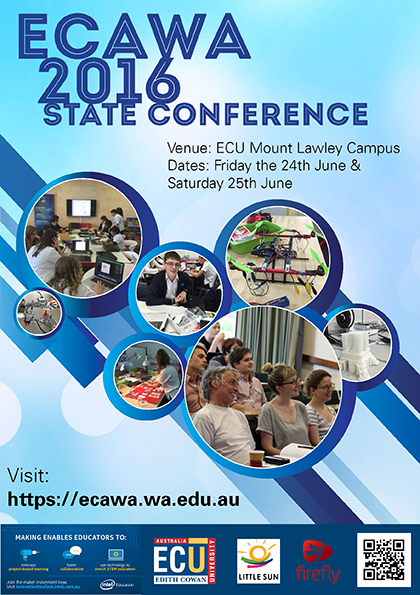 There is a great deal happening at the ECAWA 2016 State Conference to be held this Friday the 24th and Saturday the 25th of June, that will be of interest to educators working with all years groups – particularly as we implement the WA Digital Technologies Curriculum, and there are currently  places available in all the advertised workshops and presentations.
If you have not already chased your school PL / PD application for the ECAWA 2016 State Conference you really need to hurry.
STEM is a hot topic around the world at present and we are sure that you would like some background as to why ECAWA would focus on STEM.
According to Associate Professor Dr Paul Newhouse, STEM needs the T in more than one way.
STEM (Science, Technology, Engineering and Mathematics) knowledge and skills are critical for the well being of our society and economy, but overwhelmingly by the end of schooling the majority of our students are not interested, and have no plans to continue study or work in these areas. This includes the T of computing technology.
However, the T in ICT can be used to build the interest of students, and engage their minds with the whole concept of STEM, provided it supports appropriate pedagogy and approaches to assessment. Paul's presentation will identify the important roles computer technology can play in promoting STEM learning, and illustrate this with examples from experience and research.
Dr Jenny Lane will present an insight into Coding and the West Australian Curriculum. There has been so much hype and talk about coding in the curriculum that many teachers are confused. In this session Jenny will do a deep dive into the new WA Technologies Syllabus and explore what is appropriate for different year levels.
A range of teaching ideas and learning resources will be shared including activities suitable for teachers who are "newbies" in this area.
We know that taking the first step in making things with Digital Technologies can be overwhelming for teachers and students alike, and Karsten Schulz of Digital Careers aims to smooth the way with his presentation: Introduction to Arduino Development, which will focus on:
practical cross-curricular examples that demonstrate computational thinking and project ideation,
• helping teachers to become mentors and enablers of their student's learning,
• practical advice on how to engage girls more meaningfully, and keep them engaged in Digital Technologies, in particular during transition from primary to secondary school.
• first steps in Arduino-based development.
We don't know exactly what the future holds for our students, but we can equip them with the tools and skills to tackle these eventualities. This is the intention of Joachim Cohen, Education Outreach Pr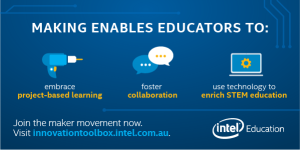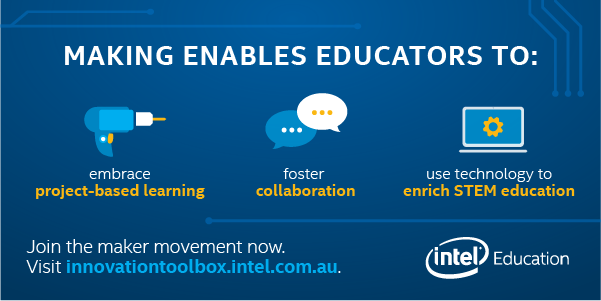 ograms Manager of Intel Australia in offering his extended two part workshop: Creating the Next Generation of Innovators with Digital Technologies that will STEAM up Your Classroom Part 1: An Introduction to Physical Computing with Arduino and  Part 2: Getting groovy with sensors, buzzers, LCD displays and so much more!
Working from a problem/design based approach to learning, this two part workshop will focus on giving participants an introduction to the world of physical computing using an Arduino compatible board, and then collaboratively designing lesson experiences that engage, equip and inspire.
Some of the other presentations you should consider are:
Daniel Budd of Christ Church Grammar School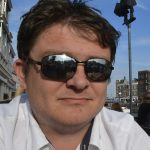 Joseph Elson and Sarah Horan of Comet Bay College
Greg Port of Corpus Christi College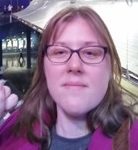 Adam Brooks of Kolbe College
Drew Mayhills of Shenton College
Remember, this is just a few snippets of what is on offer for educators at the ECAWA 2016 State Conference, and there are other presentations and workshops listed at http://bit.ly/ECAWA2016ConferencePresentations
We hope you'll join us at the ECAWA 2016 State Conference next Friday the 24th and Saturday the 25th of June at ECU Mount Lawley Campus. Tickets are available at http://bit.ly/ECAWA2016ConferenceTickets and workshop bookings are still open.
Information about and links to details of Keynotes, Presenters and presentations can be found at:  Conference information is linked to: https://ecawa.wa.edu.au/conferences/2016-state-conference/
Information about and links to concurrent workshops and presentations can be found at: https://ecawa.wa.edu.au/conferences/2016-state-conference/programme-and-presentations/
Tickets can be purchased online at: https://ecawa.wa.edu.au/conferences/2016-state-conference/2016-state-conference-tickets/
Bookings for your choice of concurrent presentations are open so that you can select your personal programme of presentations ahead of the conference:  https://ecawa.wa.edu.au/conferences/2016-state-conference/selecting-your-personal-programme/
For some of the key pieces of information go to What's on? When? How do I get a place?
In brief:

ECAWA 2016 State Conference
Dates: Friday the 24th and Saturday the 25th of June, 2016
Venue: ECU Mount Lawley Campus – a map of the venue is available.  Download the Map
Parking: Free parking is available only in Parking Are 7.  A map showing the parking area and the venue is available. Download the Map
Presenters and Presentations: See Presentations
Registration and Conference Tickets Choose your ticket and pay online
Record keeping: Certificates recording your participation in this event will be made available at the event
Enquiries: contact conference@ecawa.wa.edu.au