This event is now over, however the information below has been retained for the time being in case participants require a copy for their records.
---
The ECAWA 2016 State Conference was held at the ECU Mount Lawley Campus on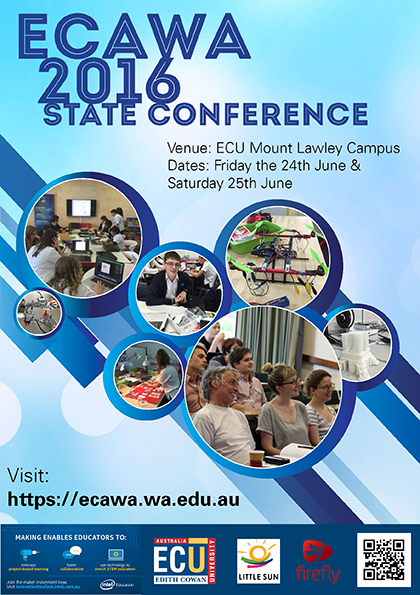 Friday the 24th and Saturday the 25th of June, 2016 – during the latter part of the second term for WA schools.
Both the Friday programme and the Saturday programme featured strands of concurrent presentations as well as some longer master classes and workshops, providing the opportunity for participants to engage and explore in greater depth.
The conference team sourced papers and presentations of interest to educators, educational administrators and support staff concerned with K-12 education, and looking at more effective ways of using information and communication technology in learning and teaching.
Stay in touch, check ECWeb regularly, read LOGIN Light each week, make sure you can receive email from ECAWA without it ending up in "spam" and look out for news about other ECAWA events and the ECAWA 2017 State Conference.
See some of the great line up of presenters and presentations at the conference at Presenters and Presentations.
Read about our Keynote Speakers and the addresses they delivered
See copies of the Timetable and the Programme Summary for both days of the conference.
---
In brief:

ECAWA 2016 State Conference
Dates: Friday the 24th and Saturday the 25th of June, 2016
Venue: ECU Mount Lawley Campus
Presenters and Presentations: See Presentations
Enquiries: contact conference@ecawa.wa.edu.au