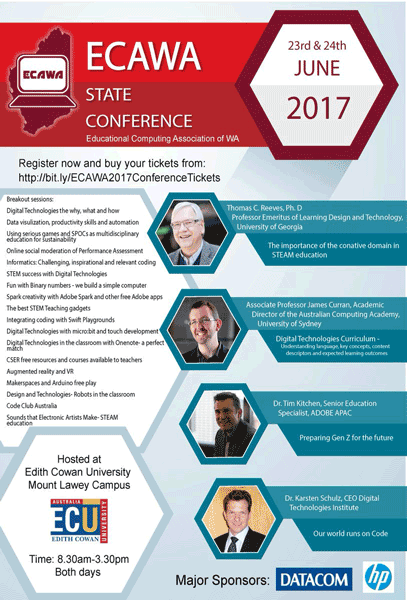 The ECAWA 2017 State Conference was held at the ECU Mount Lawley Campus on Friday the 23rd and Saturday the 24th of June, 2017 – during the latter part of the second term for WA schools.
Dr Tim Kitchen, Adobe's Senior Education Specialist – Asia Pacific, and one of our Keynote Speakers, has shared his video about the Conference at https://timkitchen.net/2017/06/27/ecawa17/
A slide show of photos and other images from the event is available at http://bit.ly/ECAWA2017SlideShow
A slide show of photos of some of our prizes donors and prize winners is available at http://bit.ly/ECAWA2017Winners
The programme featured strands of concurrent presentations as well as some longer master classes and workshops, providing the opportunity for participants to engage and explore in greater depth. A full stream in the concurrent presentions was devoted to "Delving Deeper into the Digital Technologies Curriculum" presented by Associate Professor Dr James Curran, writer of the Australian Curriculum: Digital Technologies.
The conference team sourced papers and presentations of interest to educators, educational administrators and support staff concerned with K-12 education, and looking at more effective ways of using information and communication technology in learning and teaching.
Stay in touch, check ECAWeb regularly, read LOGIN Light each week, make sure you can receive email from ECAWA without it ending up in "spam" and look out for news about other ECAWA events and all the follow ups related to the  ECAWA 2017 State Conference.
See the list of Speakers, Presenters and Presentations.
See copies of the Timetable for both days of the conference.
⇒Sponsorship Opportunities
ECAWA welcomed the involvement of our sponsors and supporters in this event, and asks ECAWA members to remember to support the people and companies who have supported you professional learning and your association.
Sponsors, supporters and exhibitors help to make this event affordable for educators,  and by exhibiting, give busy teachers and educational administrators the chance to see and discuss their products at a convenient time.
---
In brief:

ECAWA 2017 State Conference
Dates: Friday the 23rd and Saturday the 24th of June, 2017
Venue: ECU Mount Lawley Campus – a map of the venue is available.  Download the Map
Parking: Free parking is available only in Parking Area 7 – the RED Zone.  A map showing the parking area and the venue is available. Download the Map
Buy Tickets: Choose your ticket and pay online at http://bit.ly/ECAWA2017ConferenceTickets
Presenters and Presentations: http://bit.ly/ECAWA2017Presentations
Information: http://bit.ly/ECAWA17
Record keeping: Certificates recording your participation in this event will be made available at the event
Enquiries: contact conference@ecawa.wa.edu.au or secretary@ecawa.wa.edu.au 
LOGIN Light: http://bit.ly/LOGINLight