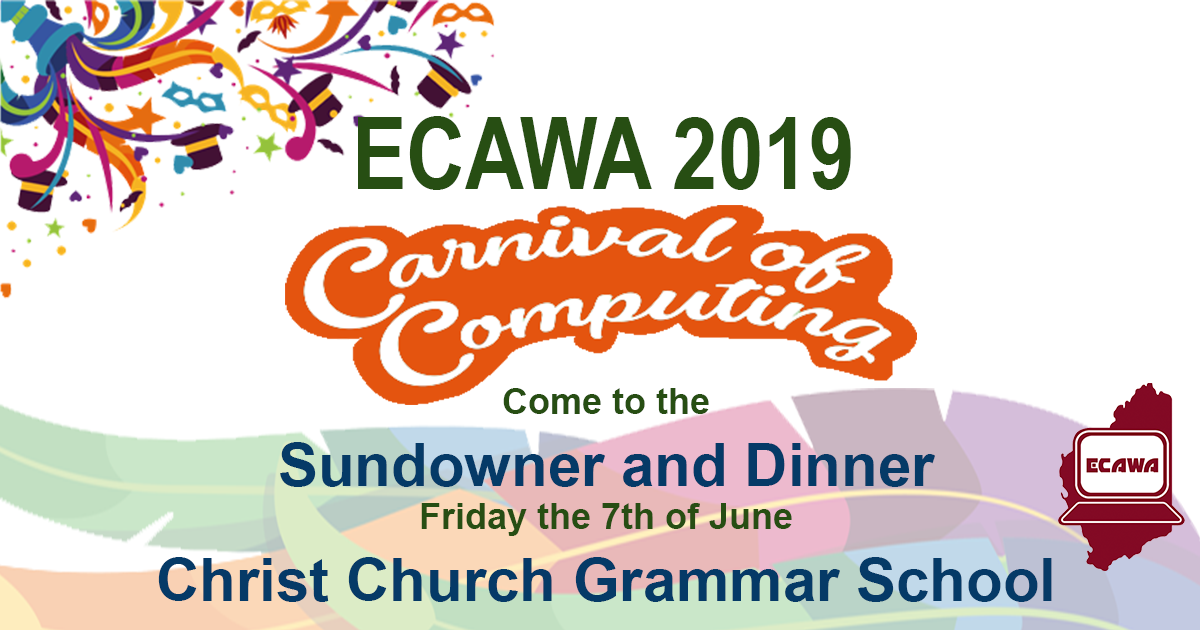 .
Come to the ECAWA 2019 Carnival of Computing Sundowner and Dinner at Christ Church Grammar School – in the Old Boys Dining Room.
We anticipate that the Dinner will be a very special event, and encourage those of you who can to order your tickets early to reserve your place.
The Sundowner will be a lovely opportunity for people to mingle for a pre-dinner drink while we wait for everyone to assemble.
The Dinner will be a a relaxing time and will not be a late night as we will all be heading out for our masterclasses on Saturday morning.
Ahighlight of the Dinner will be the presentation of the ECAWA 2018 Awards – the ECAWA Educator of the Year, the ECAWA Educational Leaders of the Year,  and the inaugural ECAWA Digital Technologies Teacher of the Year.
Come along to Christ Church Grammar School for this very special event.
In brief:
ECAWA 2019 Carnival of Computing Sundowner and Dinner 
Date: Friday the 7th of June, 2019
Time: Sundowner from 5.00pm Dinner from 6.00pm – 9.45pm
Venue: Christ Church Grammar School – Old Boys Dining Room
Access and Parking:
 Enter via the Queenslea Drive entrance. There should be plenty of parking in the main carpark (circled orange on the map). The Dining Room we will be using is on the ground floor of the
L Block
below the
IT Centre
(circled red). Please check the map (
download the map
)
Tickets:
 Tickets must be purchased in advance and are $55.00 (inc GST)
ECAWA 2019 Carnival of Computing Dinner
Tickets for Members, Prospective Members and Partners