This event is now over, however the information below has been retained for the time being in case participants require a copy for their records.
---
The ECAWA 2016 State Conference will be held at the ECU Mount Lawley Campus on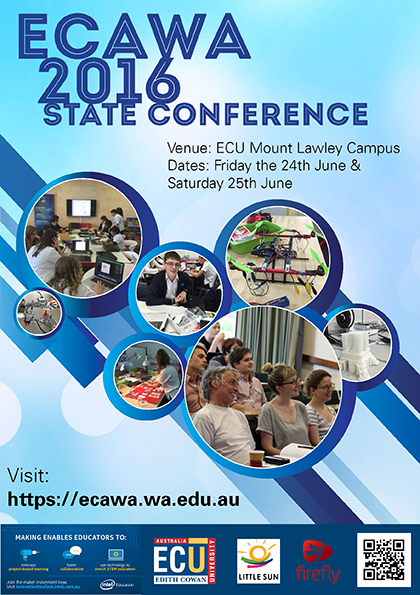 Friday the 24th and Saturday the 25th of June, 2016.
What's on?
See some of the great line up of presenters and presentations for the conference at Presenters and Presentations
Read about our Keynote Speakers and the addresses they will be delivering
When is everything happening?
See copies of the Timetable and the Programme Summary for both days of the conference.
How do I get a place in those workshops?
First – Register!  Now! Check the various options and buy your conference ticket online at Registration and Conference Tickets
Next – as soon as you have bought your ticket check back over the details of all the presentations and then select your personal conference programme for the day or days you will be participating, using either:
⇒Select Your Personal 2 Day Programme
⇒Select Your Personal 1 Day Programme
How do I find everything?



Details of parking arrangements and a map showing the parking area and the venue will be available on ECAWeb soon.
Will I get a certificate?
Certificates recording your participation in this event will be made available at the event. Check your spelling and punctuation when you enter your details as you purchase your tickets as this information is used to produce your name tags, certificate and any other documents.
What if I need to ask a question?
Contact conference@ecawa.wa.edu.au
---
In brief:
ECAWA 2016 State Conference
Dates: Friday the 24th and Saturday the 25th of June, 2016
Venue: ECU Mount Lawley Campus – a map of the venue is available.  Download the Map
Parking: Free parking is available only in Parking Are 7.  A map showing the parking area and the venue is available. Download the Map
Presenters and Presentations: See Presentations
Registration and Conference Tickets Choose your ticket and pay online
Record keeping: Certificates recording your participation in this event will be made available at the event
Enquiries: contact conference@ecawa.wa.edu.au