A Presentation and Hands On Activities
CyberTaipan is an Australian Youth Cyber Defence Competition modelled on the US Air Force Association's CyberPatriot program.
In this presentation, the presenters will unpack the technical details, support resources and competition structure so you can run this free Cybersecurity competition in your own school.
This competition has become an essential part of the Cert II Workplace Skills – Cybersecurity offered at John Curtin College. It is providing opportunities for students to demonstrate the practical components of their units on the school site.
Presenters:
Donna Buckley and Damon Boniwell
Intended Audience:
Those interested in Cybersecurity, Lower Secondary (7-8),  Middle Secondary (8-9), Senior Secondary (10 – 12)
Resources:
See the Cyber Taipan resources page at https://www.csiro.au/en/education/Programs/Digital-Careers/CTaipan/Modules-Resources  as Donna has aligned the content in this presentation to contextualise the course assessment requirements.
Requirements:
WiFi access will be provided at the venue.
Location:
Christ Church Grammar School, Claremont, Senior School Staff Room.
About the Presenters:
Donna Buckley is a level three teacher, Assistant Head of Mathematics and VET Cybersecurity teacher. Passionate about connecting industry needs to students, she advocates for the teaching of Data Science and Programming in schools. Donna is a coordinator at the Perth Girls Programming Network and has presented on mathematics, cybersecurity, data science, programming and cryptography in STEM Conferences across Australia.
Damon Boniwell  is a student at South Metropolitan Tafe studying Cert IV in Cyber Security and a Technical Support Officer at John Curtin College.
Damon graduated from John Curtin College of the Arts in 2022 after completing the Cert II in Workplace Skills and Cyber Security. He is a technical mentor for PECAN+ and Cyber Taipan having been part of both competitions for a couple of years.
Damon is passionate about Cyber Security, Programming and Cyber Competitions.
Join Donna Buckley and Damon Boniwell  at the ECAWA 2023 State Conference  on Thursday the 5th and Friday the 6th of October, 2023 at Christ Church Grammar School.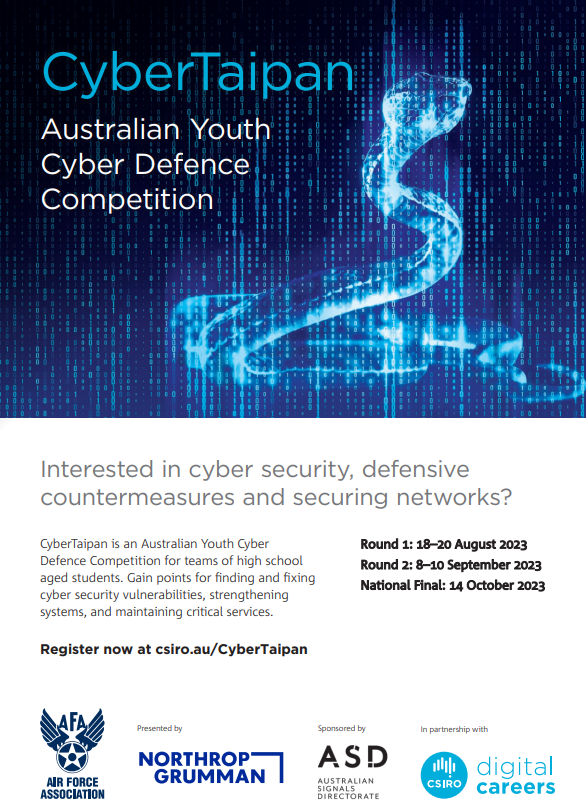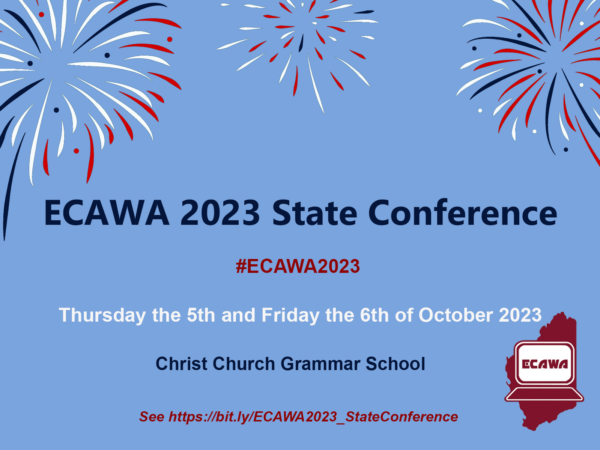 ---
In brief:

ECAWA 2023 State Conference
Main page: https://ecawa.wa.edu.au/conferences/2023-state-conference/
Dates: Thursday the 5th and Friday the 6th of October 2023
Venue: Christ Church Grammar School
Parking: Plenty of parking available or arrive by train and walk over to the school.
Presenters and Presentations: Presenters and Presentations  form
Registration and Conference Tickets: See https://ecawa.wa.edu.au/professional_learning/professional-learning-event-tickets/ Choose your ticket and pay online
Record keeping: Certificates recording your participation in this event will be made available at the event
Enquiries: contact secretary@ecawa.wa.edu.au