The Australian Council for Computing in Education (ACCE) in conjunction with the Australian Computer Society (ACS) is pleased to announce that Yvonne Harrison, Deputy Principal of Singleton Primary School, has been judged as Leader of the Year.
Yvonne was nominated for this award by Educational Computing Association of Western Australia, whose president, Dr Jenny Lane, commented:
"Yvonne has played a significant role in developing both her own school in the area of ICT, as well as sharing that information with ICT leaders nationally and internationally.
Actively participating in an extremely wide global Professional Learning Network incorporating educators using Games in Education, Problem Based Learning, STEM and Education Futures, Yvonne regularly shares her knowledge of such innovations across global social media streams, and within her blog, with a view to opening others' horizons in the application of new teaching approaches and the technologies used to support many of these. As such she has had significant positive impact on technology use in education; locally, regionally, state wide, nationally, and globally".
The Principal of Singleton Primary School stated:
"Yvonne is an outstanding example of the professional learner. Her quest for knowledge in how best to address the needs of gifted and talented students through the information and communication/ digital technologies ensures that staff and participants in her other networks are well informed about best practice in how to make a difference for students. As a mentor she has no peer.
As her Principal for some 18 years I have been proud to be associated with such a professional and dedicated educational leader. Her influence on the lives of students and teachers with whom she has worked will be long lasting. I have no hesitation in supporting her nomination and believe she will be a very worthy representative of the WA education community if she is successful."
The award of Leader of the Year carries a $2 000 prize, kindly sponsored by the Australian Computer Society and is to be used to further the awardee's professional learning.
---
About the ACCE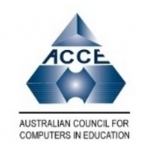 The ACCE (the Australian Council for Computers in Education) is the peak body for Australia's state Computer Education Groups: Australian Capital Territory: INTEACT; New South Wales: ICTENSW; Queensland: QSITE; South Australia: EdTechSA; Tasmania: TASite; Victoria: DLTV; Western Australia: ECAWA.
ACCE is the trusted national voice for teachers who use Educational Technology
Visit www.acce.edu.au for more information.
Media Release: Leader of the Year Press Release – March 2018