You now have an EXTRA, very BIG reason to come along tomorrow, after the announcement from Grok Academy that came through this morning.
The new initiative from Grok Academy, supported by Wise Tech Global has huge potential benefits for our students and teachers if we take advantage of their generosity.
Be at the #ECAWA2022 State Conference TOMORROW – Thursday the 6th of October – meet the team from Grok Academy and especially, be at the Grok Academy Keynote Address at 2.00pm.
Find out first hand how you can get the most from this initiative for your students and your own professional learning! Ask your questions in person.
A slightly revised timetable was posted yesterday, so check the latest information on ECAWeb at
https://ecawa.wa.edu.au/conferences/2022-state-conference/

and (and download the Timetable for each day)

https://ecawa.wa.edu.au/conferences/2022-state-conference/presenters-and-presentations/

and, as always at

https://ecawa.wa.edu.au/news

/
See you there!
Keynote Address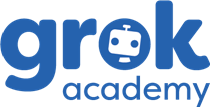 Where Students Go Wrong (+ ✨)
We've seen hundreds of thousands of attempts from students solving all kinds of programming problems over many years running the NCSS Challenge and our DT Challenges.
Analysis of those submissions has allowed us to understand the most common mistakes students make when attempting to write their own programs, and in this talk we'll share our insights with you!
.
Presenter:
Grok Academy
Location:
Christ Church Grammar School, Claremont, IT Centre
About the Presenter:
See https://grokacademy.org/
Join the Presenter and Team from Grok Academy at the ECAWA 2022 State Conference on Thursday the 6th and Friday the 7th of October, 2022