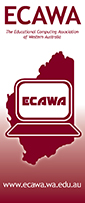 Have a look at the great line up of workshops and presentations at the ECAWA 2014 State Conference on Monday the 14th of April at  http://bit.ly/ECAWA2014Conference17
A couple of workshops can take only limited numbers, so book in early to get your first choice.
.
A link to the booking form for the concurrent workshops and presentations will be sent to everyone who has registered this evening – Monday the 7th of April. If you don't see your email, please check your spam box – especially if you are a GMail user!
.
.
.