A half day workshop at the ECAWA 2014 State Conference
Presented by
Shaloni Naik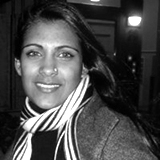 In this workshop participants will look at ways to use Adobe tools the classroom to enhance teaching and learning.
The presenter, Shaloni Niak, will take participants through two Adobe software packages, Adobe Photoshop and Adobe InDesign, with an emphasis on how to design assessment tasks,  keeping the opportunities that the software offers in mind.
.
In this workshop participants may use their own laptops with pre-installed Adobe Photoshop and Adobe InDesign, or they may use a computer in the lab.
.
NOTE:
1. Numbers in this workshop are limited and a URL  for bookings will be made available to REGISTERED Conference delegates a week before the workshop.
.
Join Shaloni Niak at the ECAWA 2014 State Conference on Monday the 14th of April atPenrhos College.
Download