The Australian Computers in Education Conference 2014 (ACEC2014) is the biennial conference of the Australian Council for Computers in Education (ACCE). In 2014 the ACEC conference will be hosted in Adelaide by EdTechSA.
ACEC2014: NOW IT'S PERSONAL
Date: September 30th  –  October 3rd, 2014
Venue: Adelaide Convention Centre, Adelaide, South Australia
Early Bird Pricing Ends on April 1st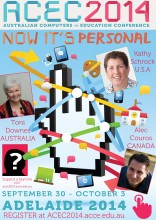 .
Theme:  "Now It's Personal" is focused on you and your learning.
Download: