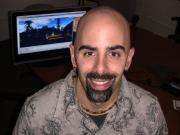 Professor Sasha Barab, Professor, Educational Leadership & Learning Sciences, is a Founding Senior Scientist and Scholar of the Learning Sciences Institute, and the Pinnacle West Presidential Chair at the Mary Lou Fulton Teachers College, Arizona State University.
His research has resulted in numerous grants, dozens of academic articles, and multiple chapters in edited books. His current work involves the research and development of rich learning environments, frequently with the aid of technology, that are designed to assist children and adults in developing their sense of purpose as individuals, as members of their communities, and as knowledgeable citizens of the world.
Professor Barab's recent work involves combining strategies used in the commercial gaming environment with lessons from educational research on learning and motivation.
Sasha Barab's research interests include games for learning, online communities, situativity theory, and design-based research. He is also responsible for overseeing a games and impact certificate and degree program, as well as design labs for interdisciplinary agenda.
.
.
.
Follow @sbarab