'An Evening with Dr Karl Kruszelnicki' – is a great way to end the school year!
Dr Karl Kruszelnicki burst onto the scene in 1981 when he began presenting the Great Moments In Science segment on radio Double J (the precursor to Triple J) to pay his way through medical school.
With his trademark fast-talking, zany take on anything and everything scientific, he quickly built an audience keen to learn more about our amazing world and be entertained at the same time.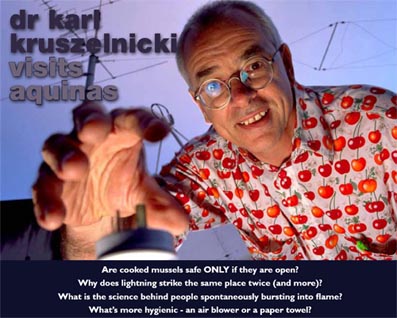 Since then, Dr Karl Kruszelnicki's  media career has exploded and now includes TV, books, newspapers, magazines, scripting, professional speaking, and of course, the Net.
You are invited to join us for his exciting talk on Monday the 6th of December, from 6.15pm, at Aquinas College.
Dr Karl Kruszelnicki will speak and then a light supper will be served.
Dymocks Garden City will have copies of Dr Karl's latest book, 'Curious & Curiouser' available and Dr Karl will sign copies during supper. Copies of 'Curious & Curiouser' may be pre ordered using the form at the bottom of the flyer below.
Obtain your free tickets to 'An Evening with Dr Karl Kruszelnicki' by  calling 08 9450 0618 or by emailing secretary@ecawa.wa.edu.au as soon as possible as this event is sure to fill quickly.