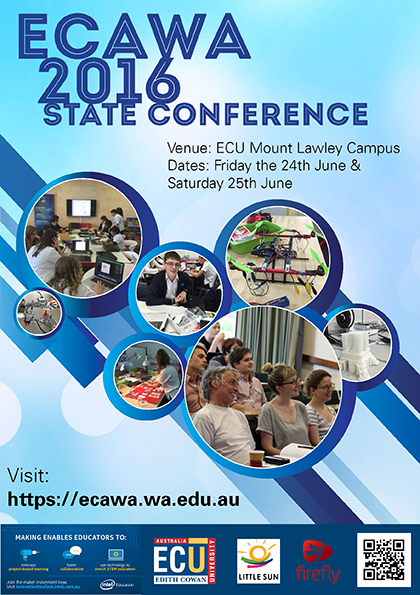 We are counting down the hours to the ECAWA 2015 State Conference now!
The Conference begins on Friday the 24th of June, and we are looking forward to a very full and exciting two days at ECU Mount Lawley.
If you need information about the Conference and you can't find it on the website, please call Lynley on 0411 241 261 or send a text message, or email secretary@ecawa.wa.edu.au
None of us will be at our desks over the few next days, but we'll definitely be 'connected'.
There are still places available at the Conference, and there is even a special prize draw that people completing  'late registrations' go into, thanks again to Stanley Lui at Little Sun! (Make sure you have a look at the Little Sun display on Friday or Saturday and see the prizes at http://bit.ly/LittleSun2016
Some last minute reminders:
Programme: Information about the programme and presentations is on the Conference website along with a timetable for each day at http://bit.ly/ECAWA16WhatsOn  
If you have not already selected the concurrent presentations and workshops in which you will participate please do so now!
The information you provide will assist the Conference team with their final arrangements, including ensuring that that adequate seating and appropriate catering is available.
Equipment and network access: As usual, this is a BYO device event, and you are encouraged to bring your own wireless enabled computer, notebook, laptop, Macbook, tablet, iPad, or similar to use on the network.
Information about accessing the network will be available from the Registration Desk in the foyer of Building 16 from 8.30am on Friday.
You will not be able to download software or other larger files over the university network, so please ensure that any apps, software or other files you may wish to use at the conference have been installed on your device before you arrive.
If you are using a school owned notebook computer, please ensure that you have administration 'rights' to be able to connect to the Conference network.
Please also ensure that your notebook computer and any other equipment that you are bringing to the Conference, as well as any power packs, cables, connectors, etc are all labelled with your name and a contact telephone number, so that they can be returned to you quickly if they are misplaced.
Some of our conference presenters have suggested software that you may wish to use in their workshop, and have indicated this on the page about their presentation. Please check the relevant pages of the website and make sure you download and install everything you will need before you arrive at the Conference venue. Again, you will not be able to download large files over the wireless network, so please download and install everything you will need before you arrive.
Social media: If you are posting photos or information please use #ECAWA2016
During the event @ECAWA and @ECAWASecretary will pass on any last minute reminders, late changes and notices via Twitter – and chances are we'll use Twitter to call you to lunch!
Facebook and Flickr are great places to post photos during the conference, and we'd love to see lots, so please tag photos #ECAWA2016 If you are not a already member of the ECAWA Facebook Group – this is a great time join! Please see Yvonne Harrison if you need and assistance with this.
Parking: Please be sure to study the parking information on the website at The document has been prepared to help you park in the area allocated to the conference, and to find Building 16 were our Registration Desk is located, as easily as possible. Download the Map from http://bit.ly/DownloadMap2016
See you at ECU Mount Lawley on Friday!
---
In brief:

ECAWA 2016 State Conference
Dates: Friday the 24th and Saturday the 25th of June, 2016
Venue: ECU Mount Lawley Campus – a map of the venue is available.  Download the Map
Parking: Free parking is available only in Parking Are 7.  A map showing the parking area and the venue is available. Download the Map
Presenters and Presentations: See Presentations
Registration and Conference Tickets Choose your ticket and pay online
Record keeping: Certificates recording your participation in this event will be made available at the event
Enquiries: contact conference@ecawa.wa.edu.au