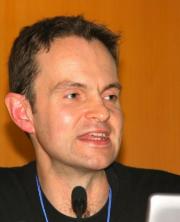 Dr. Neil Selwyn is a Reader at the Institute of Education, University of London. His research and teaching focuses on the place of digital media in everyday life, and the sociology of technology (non)use in educational settings.
Neil Selwyn has written extensively on a number of issues, including digital exclusion, education technology policy making and the student experience of technology-based learning.
Dr Selwyn's recent books include 'Primary Schools and ICT' (2010, Continuum), 'Schools and Schooling in the digital age' (2011, Routledge), 'Education and Technology: Key issues and debates' (2011, Continuum). His latest book, released in September – 'Education in a digital world: global perspectives on technology and Education' (2012, Routledge).

Follow @Neil_Selwyn
.
.
.
.