Masterclass – now closed – watch for the next date!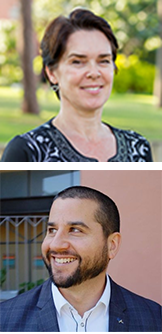 Valerie Maxville and Shyam Drury have worked together to develop a Year 10 STEM project that reflects the real work of 'dry lab' scientists.
This project explores the absorption of drugs like aspirin in the blood stream and uses mathematical modelling and simulation to determine a dosage regime for a new medicinal drug.
Presenters:
Valerie Maxville and Shyam Drury

Objectives:
To understand how to run a project combining science, mathematics and digital technologies, providing rigour and deep exploration of each of the disciplines and reflecting real world practice.
AITSL Standards:
Consider: 2.1, 2.3, 2.6, 3.1, 3.2, 3.3, 3.4, 4.5, 5.1, 6.2, 6.3, 7.4
Requirements:
Please bring along a computer with excel (or an apple equivalent) on the device.
WiFi access TBA
Intended Audience:
Those interested in Year 10 STEM
Group Size:
15 tickets will be available.
Schedule:
Thursday the 6th of June
3:40pm Registration and afternoon tea
4:00pm – 4:30pm 
4:30pm – 5:30pm 
5:30pm – 6:00pm 
Location:
Scitech, City West Room: Magnesium Meeting Room (ground floor, below Scitech Discovery Centre, City West, West Perth)
Travel and Parking:
(note: the parking situation has changed at Scitech as of 14/12/2018)
By train
Catch the train one stop to 'City West' from the Perth City train station on the Fremantle line.
Or we are a 20-minute walk from the Leederville train station on the Joondalup line.
By bus
Catch the free green CAT bus service and get off at stops 10 or 12 (City West Station).
Visit Transperth to check timetables and plan your journey.
By car
Science Centre visitors now need to purchase a $5 all day parking ticket. To buy your $5 all day ticket:
Park your car in one of the available parking bays

Make note of your licence plate number (we recommend taking a photo of it)

Head upstairs to the Scitech Centre and purchase your ticket

Go to one of the three parking machines inside City West, purchase your $5 all day ticket and register your license plate number

Ticket machines are located outside the CSIRO Lab on Level 1, or near the Ground Floor Scitech ticket desk
About the Presenters:
Dr Valerie Maxville is a senior lecturer at Curtin University in the School of Electrical Engineering, Computer Science and Mathematical Science.
Shyam Drury is the Maths Multiplier at Scitech.

Tickets for the Perth Masterclasses and the Carnival Dinner may be selected at http://bit.ly/ECAWA2019Carnival_Perth_Tickets
Scroll down and choose the appropriate tickets.
Join Valerie Maxville and  Shyam Drury at the ECAWA 2019 Carnival of Computing  on Thursday the 6th of June.