Breakout Presentation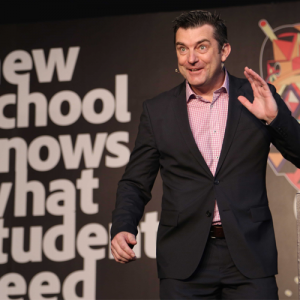 Presented by
Dr Tim Kitchen
Senior Education Specialist – Adobe Asia Pacific
Adobe Spark is a set of free creativity tools from Adobe that are being used to enhance creativity in classrooms around the world.
Available for iOS and via any web browser, students and teachers are able to use Adobe Spark to make posters, videos and web pages quickly and easily.
Design ideas are provided as part of the software which aims to allow students to add content quickly to construct their learning.
This session will be run by Dr Tim Kitchen who is Adobe's Senior Education Specialist for Asia Pacific.
⇒ Dr Tim Kitchen, Adobe's Senior Education Specialist – Asia Pacific, and one of our Keynote Speakers, has shared his video about the Conference at https://timkitchen.net/2017/06/27/ecawa17/
About the Presenter:
Following over twenty years of teaching and education leadership experience in Melbourne, Dr Tim Kitchen is currently Adobe's Senior Education Specialist for Asia Pacific.
Tim regularly liaises with government officials, schools, universities, Adobe partner companies and organisations with a focus on enhancing creativity in education. He also manages the Adobe Education leadership and active use programs throughout Australasia and supports the professional learning activities within the Adobe Education Exchange (https://edex.adobe.com) which now has over 370,000 members.
A passionate advocate for creativity in education, and a well recognised education thought leader in Australia, Tim is a regular writer and presenter for a wide range of national and international journals and conferences.
Join Dr Tim Kitchen at the ECAWA 2017 State Conference at ECU Mount Lawley.