This ECAWA Update was sent to members registered email addresses on the 21st of January, 2019, however please note that corrections regarding the Conference dates and a PL venue were added subsequently.
A Message from ECAWA President Michael King
Hello everyone,
I hope you all had a wonderful Christmas and New Year. I wish you all a productive and happy 2019.
I have been able to reflect on 2018 and I am reminded that an association like ours cannot function without many people contributing and excelling in their field. We are lucky that we have so many people who are passionate and giving of their time, sharing and looking for opportunities to give back.
With this in mind it is a great privilege to announce the recipients of the ECAWA 2018 awards.
We had so many wonderful nominations for the awards this year and I encourage everyone who sees or practices excellence to nominate. Our recipients are excellent practitioners and are worthy of the awards.
♦ECAWA Educator of the Year
Michelle Pestel
See http://bit.ly/ECAWAEoY2018MichellePestel
♦ECAWA Digital Technologies Teacher of the Year
Michelle Chomiak
See http://bit.ly/ECAWADTToY2018MichelleChomiak
♦ECAWA Leader of the Year
– awarded jointly to
Michelle Ellis and Bhavneet Singh
See http://bit.ly/ECAWALoY2018MichelleEllis and  http://bit.ly/ECAWALoY2018BhavneetSingh
Thank you again to all those who nominated, and congratulations to our award recipients.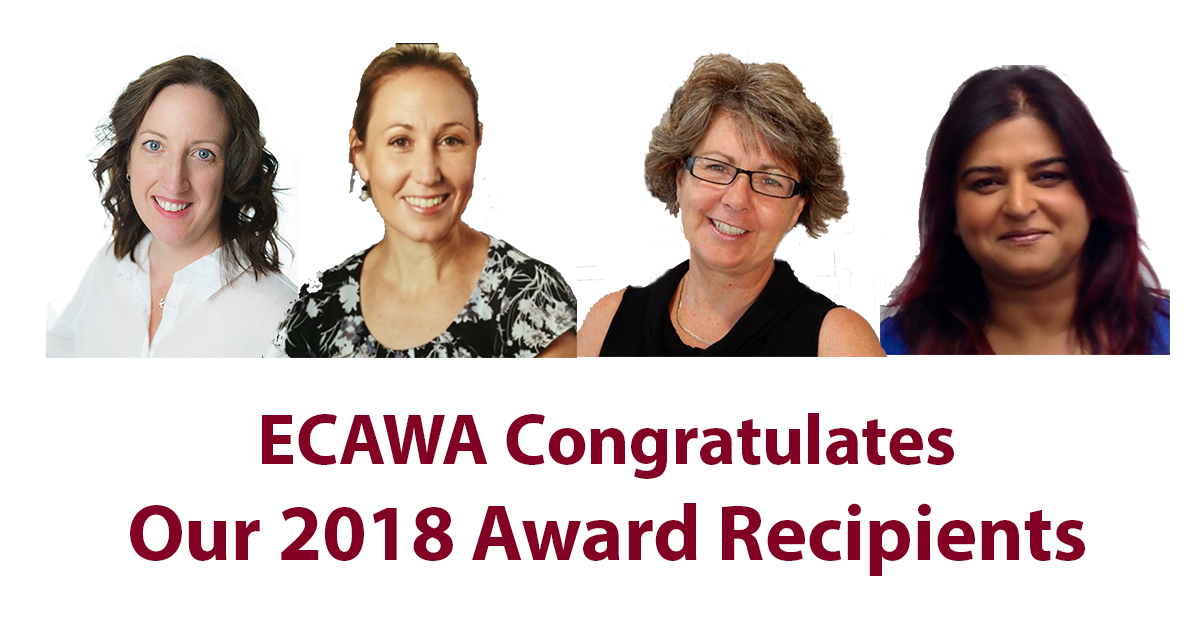 As I consider the upcoming year I'm excited to think about the opportunities ECAWA will be offering you. We have a wonderful PL session on the 20th of February for Computer Science teachers that I encourage anyone teaching the course to attend. See http://bit.ly/ECAWACompSci2019 for more information and go to http://bit.ly/ECAWAPLTickets for your FREE ticket to this event. Please note the change of venue: now All Saints' College, Bull Creek.
I'd also like to announce that the ECAWA 2019 State Conference will be held on  Friday the 7th and Saturday the 8th of June (nb: dates have been corrected from those in the original posting) this year. We hope to have more information for you all very soon, but remember to save the date so that you are able to attend.
Input from our members is especially valuable at this time when we are planning both the activities and opportunities for the coming year and also planning our State Conference. Please let us know if there are anything we can do to support you, and if you have any suggestions for Professional Learning that you might like us to offer.
I also encourage you to consider what you can do for your colleagues – and perhaps offer a PL presentation yourself at http://bit.ly/ECAWA_Offer_to_Present_PL
I hope you all enjoy the reminder of your break, and are refreshed and ready for the start of Term 1.
Warm regards,
Michael King
Michael King
President – ECAWA
ECAWA
The Educational Computing Association of Western Australia (Inc)
w: ecawa.wa.edu.au    e: president@ecawa.wa.edu.au