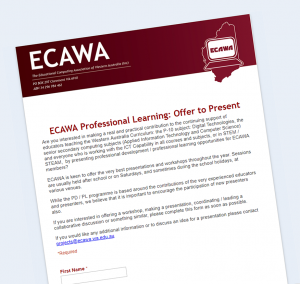 The response from educators offering presentations for the ECAWA 2018 State Conference has been wonderful and the programme is now full (with details still being uploaded every day), however we are always looking for people with great ideas to share at after school or Saturday workshops.
Please make your offer at http://bit.ly/ECAWA_Offer_to_Present_PL If you would like any additional information or to discuss an idea for an after school or Saturday / holiday workshop please contact secretary@ecawa.wa.edu.au
But while you are thinking about that ……
Check out the programme for the ECAWA 2018 State Conference at http://bit.ly/ECAWA2018Presentations  Details are still being uploaded, but you'll get an idea of what a wonderful programme tthe team has in store for you on Friday the 8th and Saturday the 9th of June at ECU Mount Lawley.
See you there!