The Game Changer Awards –
inspiring STEM innovation in WA Schools.
Game Changer Awards is powered by:
WAITTA
WA Information Technology and Telecommunications Alliance
Download the PDF: Game Changer Awards 2017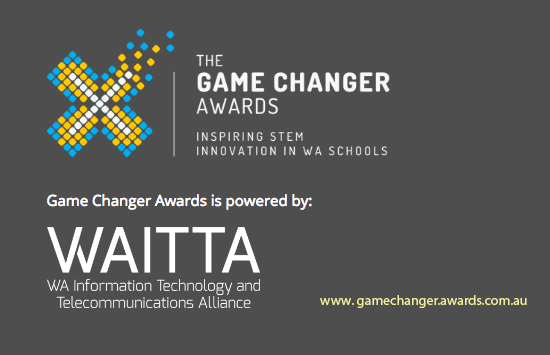 The Game Changer Awards Committee 2017 will be conducting judging on the 20th August at Murdoch University, in Learning Link – Building 513. Enter from South Street, Murdoch, (Gate B).
All are welcome.
The judging event runs from 9.00am – 2.00pm with the best time for viewing being from 10.00am – 1.00pm.
If you are interested in finding out more, please email Mike Leishman   at mike.leishman@gamechangerawards.com.au with your contact details.
Also, more information on the awards can be found at http://www.gamechangerawards.com.au/
Download the notes from the teacher information briefing at http://www.gamechangerawards.com.au/
Updated August 2017