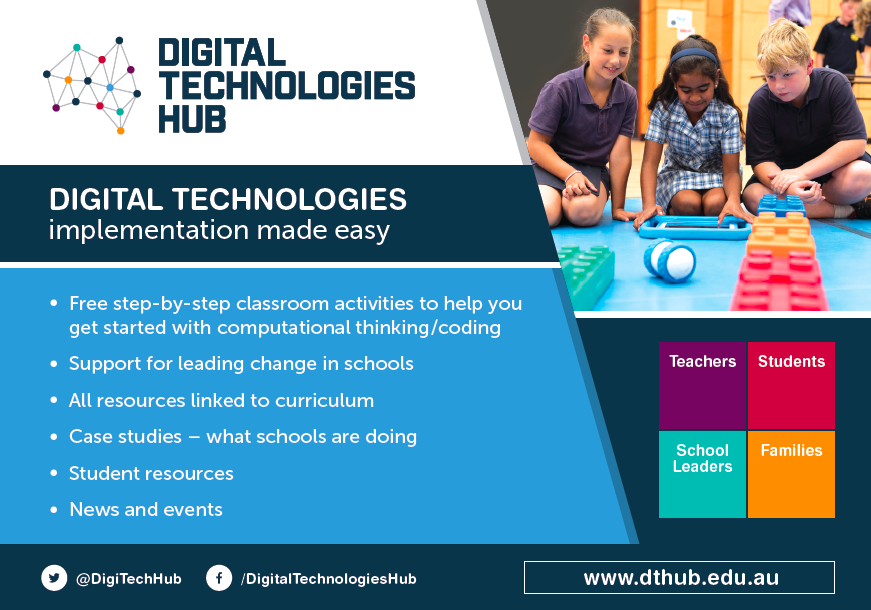 ECAWA Members, staff of member schools and pre service teachers are encouraged to attend a presentation of the Digital Technologies Hub.
This event will provide:
a brief introduction to the Digital Technologies Curriculum
an introduction to the Digital technologies Hub and resources you can use right away
Additional information will be added to this page in the lead up to the event.
In brief:

Date: Monday the 14th of August, 2017
Time: Afternoon tea will be served from 4.00pm, with the presentation to begin at 4.30pm. It is anticipated that the event will end at about 5.30pm.
Venue: ECU Mount Lawley Campus – Building 17, Room 103 (17.103) a map of the venue is available.
Download the Map
Parking:
 To be advised
Cost: No cost but advance bookings are required for catering purposes
Tickets: Book your FREE ticket online at http://bit.ly/DTHTickets14August2017 
Record keeping: Certificates recording your participation in this event will be made available at the event if you have booked your place in advance
Enquiries: contact
secretary@ecawa.wa.edu.au
LOGIN Light:
http://bit.ly/LOGINLight